Shed City,
Regular price
Sale price
$0.00 AUD
Unit price
per
Sale
Sold out
Shed City - reseller of the Steelchief brand Garden Shed, available for collection from our depot in Kilmore and direct delivery to selected metro & regional areas.  These garden sheds are manufactured by Steelchief into pre-assembled wall and roof panel using a heavier gauge steel sheeting then the boxed sheds on the market.
With a high rib steel wall sheets provide strength and aesthetics.  These range of garden sheds have a huge range of sizes and many customization options providing a  functional long-lasting addition to your property.
Designed and manufactured right here in Victoria, SteelChief's steel sheds are built to last. The steel is coated with zinc for rust protection and then factory painted giving you a fantastic range of colors. No need to paint ever again

Steel sheds in general will last for many years with little maintenance and are also water and fire-resistant as standard. Unlike timber, steel is impervious to pests like termites and immune to wood rot. Steel sheds are low maintenance compared to timber sheds.
SteelChief offers four Shed Roof Types. Gable, Skillion, Flat, and Heritage.
SteelChief integrates BaseSmart technology. Which is an improvement on the traditional U-shaped base which, due to a build-up of water and debris at the base of the shed, leads to corrosion in the wall sheets of the shed. With BaseSmart's L-shaped base, however, water and debris are channeled away from the base of your shed. This keeps it dry and corrosion free for longer.


Share
Materials

Our Garages, Carports, Sheds & other structural products are generally all Steel construction.

There are some timber, cubbies and plastic sheds/products.
Tanks & products may be poly.
Insulation products are a range of materials.

Please contact us for more information about a specific product or for assistance.
Dimensions

Width = Gable width or Skillion width

Length = Side wall usually has spouting / guttering

Height = Wall / Eave height

Peak Height = Height to top of Ridge or Highest point of the Skillion roof

Tanks may be diameter, height in inlet and/or outlet

Please contact us for specific product dimensions.
Care information

Steel sheds are like any other painted product and require regular cleaning.

Just like a car the painted finish requires careful gentle maintenance.

Timber, plastic or poly products require regular maintenance.

For care of a specific item please contact us.
View full details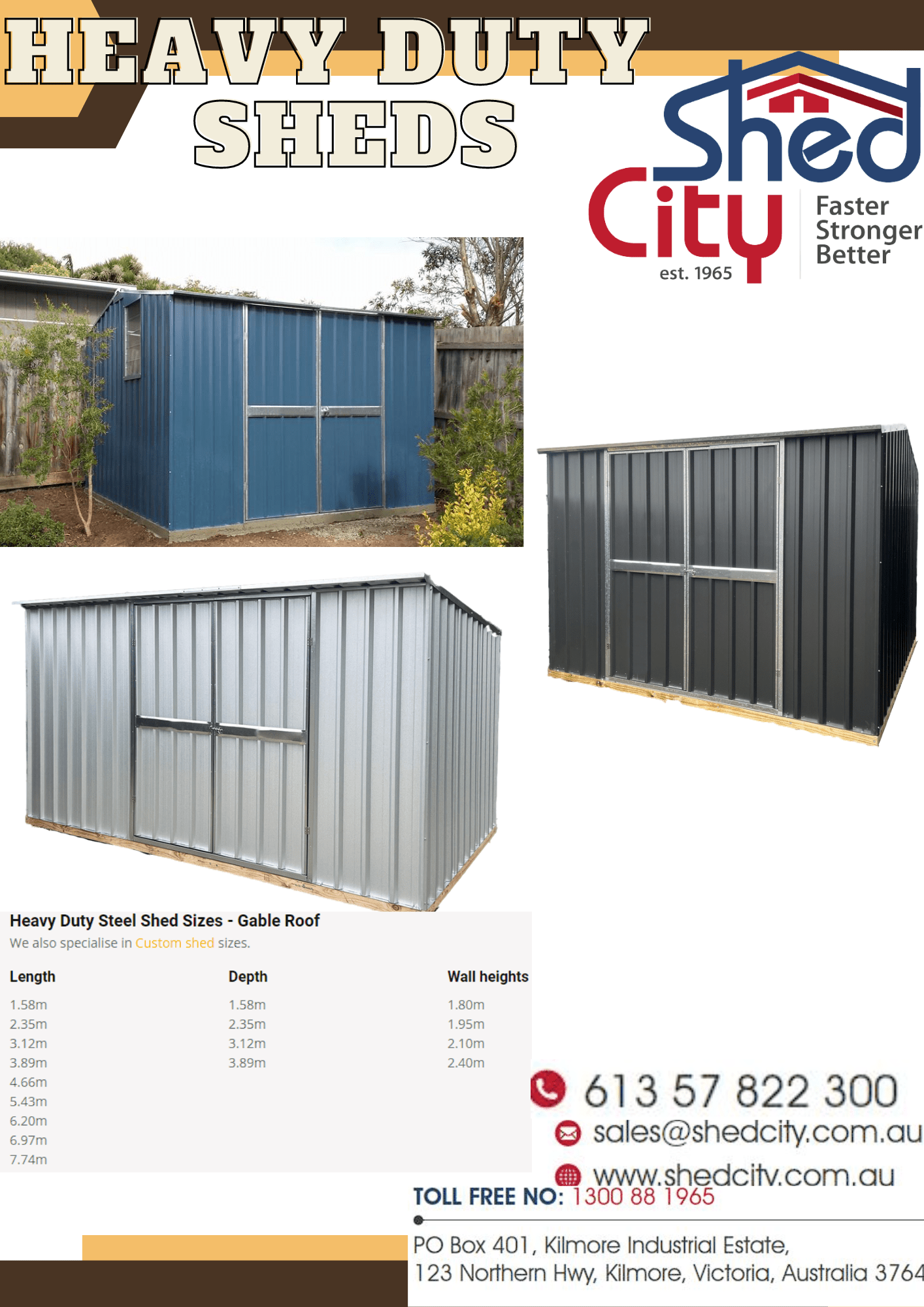 Build Faster, Build Perfection with All Bolted Frames
Proven Manufacture = Superior to Assemble
Designed for Handy person / Owner Builder / Installer
Pre-drilled "C" section portal frames
Pre-drilled "C" section Purlins & Girts
Hi Tensile Bolts & Nuts
Choice of Roofing Sheet Profiles
Choice of Wall sheet Profiles
Huge range of colours & combinations
Quality Flashings, Fixings & Fittings
Custom designs & Made to Order to Suit You!
Request a Quote